Television Offer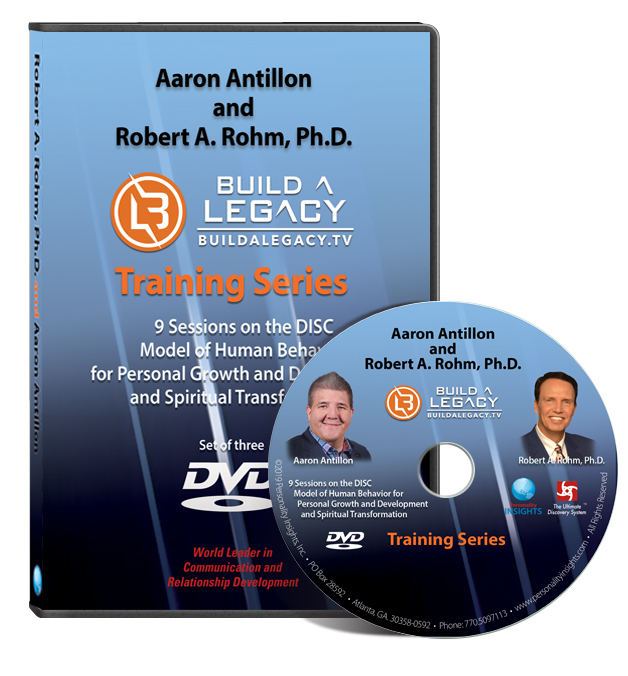 $97 DVD TRAINING VIDEOS
SESSION 1: The Ultimate DISCovery System
SESSION 2: Introduction to the Model of Human Behavior
SESSION 3: The Model of Human Behavior in Depth
SESSION 4: The Dominant Personality Style
SESSION 5: The Inspiring Personality Style
SESSION 6: The Support Personality Style
SESSION 7: The Cautious Personality Style
SESSION 8: The Disciples of Jesus
SESSION 9: The Personality of Jesus
$99 FAMILY 4 PACK OF ASSESSMENTS
50% off regular price
ASSESSMENTS INCLUDE: 2 Adult Assessments, 1 Youth, 1 Child Assessment
Adult Assessments: This English Standard Adult version of the Discovery Report is a comprehensive personality assessment and report. This version is designed to offer extensive feedback. Your 30-page report is highly accurate and easy-to-understand. The Discovery Report is based on the results of your online personality assessment that will take you only about 15-20 minutes to complete. It is packed full of helpful and practical information to help you to understand yourself and how to adapt to relate better to others. It is perfect for business or personal use. You will learn about your strengths, communication style, decision-making style and gain insights to improve your ability to relate with others.
Youth Assessments: This DISC personality profile version of the Discovery Report is designed just for teens, high school students, college students and young adults to help them understand themselves and their strengths. It also includes feedback that is helpful in thinking about career direction. Parents and teachers will also find the report useful to gain insights into how to connect based on his or her personality style. The online assessment takes about 20-25 minutes to complete. A practical and easy-to-read 12-page report will be created that provides:
Child Assessments: This Discovery Report is a great resource for parents and teachers who want to gain insights into the personality type of a child. Use this personalized report to get ideas on how to parent and teach according to the child's communication style and environment needs. This personality assessment uses fun pictures of "BOTS" (like robots) in story form as a way to determine the boy or girl's personality style. The assessment takes about 30 minutes to complete online. The recommended age range is 5-12. An adult can assist younger children with the assessment if needed to read the story and help with following the instructions.